Savannah to Puerto Rico via Philadelphia picking up Freddie and François on the way.
We arrived in San Juan, picked up a truck of a car, got lost, paid to get over a bridge and repaid to get back, then we seemed to get with it, on the navigating front. Or I did anyway, as I was in the front seat and not driving.  One reason I prefer to drive.
The Wyndham Grand first stop for some lunch and swim-up pool action.  A big barn of a place, multiple restaurants each worse than the last. Breakfast was fine, but then America and, Puerto Rico is an outpost of America can usually do good breakfasts.  Its proximity to the Yunque National Park was its draw.  The next morning was spent exploring this by car. All of Puerto Rico is still suffering from the aftermath of the last Hurricane in 2017, and Mr Trump's salve of some loo paper doesn't seem to have papered over all the cracks properly. That said the people are charming, and welcoming, unfortunately they can't cook. But they make up for that with huge portions.  So, the park although open had many of the stopping and parking places still in a state of disrepair.  Anyway as no one was too keen on hiking this was fine. We also found a local beach Luquillo to hang on, with chairs to rent, plenty of parking, and a row of restaurants.  I noticed the truck was freezing when we got back some time later as I was loading up bags and towels.  Due to the fact I hadn't actually turned the engine off!  I opened all the doors quickly so no one would notice. Phew!
The next day we took the ferry to Vieques, a place recommended by Angel a Judge in San Juan and friend of Freddie and François He had survived the hurricane with his elderly neighbours sheltering with copious amounts of wine, with his shutters down on the 4th floor. When all died down, he found a foot of sand on his balcony but otherwise all ok.
The Vieques ferry from Ceiba serves locals first then tourists. So, it was our mission to get their early and we found ourselves first in line for boarding.  Vieques is small and quiet and doctors and dentists and most shopping is to be found on the mainland. Hence the policy of locals first.  As it was Easter time it was also a "local" holiday destination. And folk were prepared for camping on beaches and bringing with them industrial quantities of alcohol, loaded on trollies, their body weight in beer as far as I could see. The ferry is very reasonable and cost me $1 each way, not bad for a 30-minute ferry ride.
We picked up another car having left the truck in the ferry car park (engine off), and found our way to the Hotel El Blok, which is the best hotel on the island, there are B&B's and other stuff but the hotel had a roof top bar with views, a kitchen that could cook and they did it over a wood fire. Sandra had the biggest room in the hotel and if you go, I suggest you ask for that.  The others are fine but this is 4* not 5.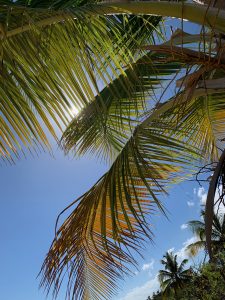 The island is flat, boasts some lovely beaches many with loo facilities, though no beach restaurants chairs beds etc. The Riviera it isn't. Our hotel gave us beds and towels so we managed very well.   It was also a US army base and there are remnants of this round and about.  The pace of life is slow like the rest of Island Caribbean and there are untethered wild horses to navigate too.
One night we took the bioluminescence tour of Mosquito Bay.  Evidently declared the brightest in the world by the Guinness World of Records in 2018.  Full Moon is the best time to go.
"In the waters of Mosquito Bay, there are organisms named Pyrodinium bahamense, Dinoflagellates (dinos).  These "dinos" are responsible for this amazing natural phenomenon.  When the "dinos" come into contact with another organism or shaken they produce a bright burst of blue light". This is quite spooky, not confined to San Juan it happens in other places too. The hurricane disrupted the balance of the bay and it went dark, but has now recovered. They say brighter than ever.
We said goodbye to Vieques returned the way we came picked up the truck, and made our way to Ponce.
Arriving Good Friday, the cultural stuff was off limits, museums closed so we had a day of sun and slumming. There is a wonderfully preserved fire station the Parque de Bombas and a Cathedral which you can spend a few minutes in.  I found Kings the ice cream parlour, where they proceeded to put more ice cream on the cone that was structurally safe so I lost some of it. But it was very good and was very cheap.  And probably just as well I lost 500 or so calories on the floor.  We found a lovely restaurant next to our Hotel Melia.  Vistas, so called, as it was at the top of the building 6 floors up. Giving us lovely sunset views and a different view of the cathedral and fire station.  We ate their twice due to idleness and we'd become so circumspect of the food in general. On our way out of Ponce we stopped at the Museo Castillo Seralles a mansion once owned by the Don Q Rum producing family who not able to afford the upkeep gave it to the state. Interesting as it was a snapshot back in time to the thirties and before.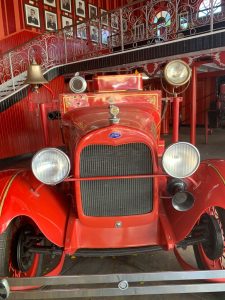 Rincon was our next destination, though due to some mix up, and for once I wasn't responsible, we ended up in San Juan a day early.  This didn't matter, Booking.com sent us a massive refund repaying what we had paid, and then paid the difference of our upgrade to the Condado Vanderbilt.  Hurrah!
The food picked up considerably in San Juan. This is the home of the Pina Colada and the only place I've seen where whole pineapples are hollowed out and the cocktail poured into the cavity.  I'm sure some of you will now send me a list of places this happens and tell me I lead a sheltered existence.  Serafina next door to our hotel was a good Italian, Marmalade in the town was also very good but also very expensive and sent you down the path of a tasting menu. A lovely bar in town was the rum bar Casitas so good I went twice. They "squeeze" ice cubes and make them square and then "brand" with the Bar Logo.  Real bar tendering at work.
Most nights around this island Sandra had managed to sniff out a casino, starting at the Wyndham Grand. There are no joining rules like there seem to be in other places, you just turn up and waste money. Easy. I'm fine about a flutter and happy to lose 20 bucks here and there but it doesn't actually do anything for my soul and so I ducked out now and then and went solo wandering.
Bacardi rum has its home in San Juan and a tour will tell you all about the Bacardi family and how the rum started and how they have evidently have to import sugar cane as Puerto Rico can't make enough to satisfy the demand.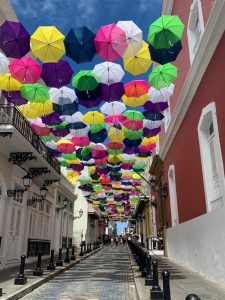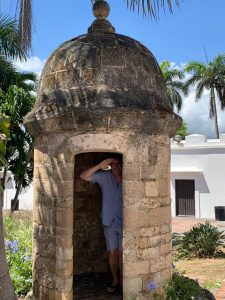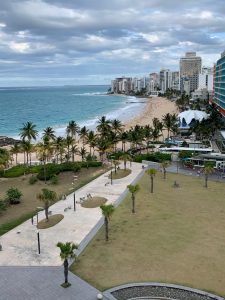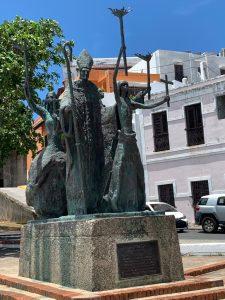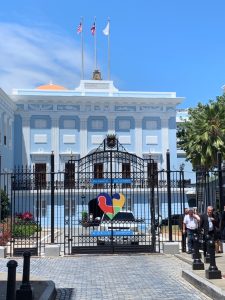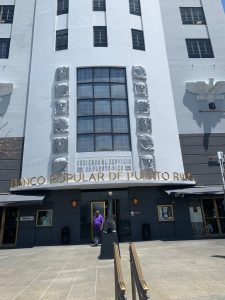 San Juan old town is fun to wander around. The architecture is stunning its Spanish history clearly visibly. Art galleries are everywhere. It is in places a little run down and unloved, owners of wonderful buildings have disappeared and decay has set in. Reminiscent of Cuba in some respects.
The history is interesting being a stopping off point for provisioning once the Atlantic had been crossed. Christopher Columbus was here. The Spanish colonised imported slaves to help build the place, there were uprisings and some very long time later the US got its hands on the place. But it is still an un-integrated organised region of the United States. Its indefinite status still sparks political debates that dominate in Puerto Rican society, I am told.