The Mansion on Forsyth
Savannah – Georgia
Charleston to Savannah, and we stopped off in Beaufort for lunch on the way. Savannah is the second place on this trip you can drink in the street. Not something I feel the need to do but good to know you won't get arrested if you do. My research for things to see here relied almost entirely on the book Midnight in the Garden of Good and Evil by John Berendt. Freddie and François gave me the movie on CD for Christmas giving me ample time to watch, anyway that escaped me.
Savannah laid out in 1733 is a town of 22 squares, horse drawn carriages, and delightful architecture.
The Mansion on Forsyth our hotel, is our first stop, to dump luggage and car and then to head out to wander the town rummage round some of the squares, and to visit Jim Williams' house on Mercer Square. The scene of a shooting decades earlier where Jim Williams shot dead his gay lover. Three trials later he was exonerated, as it all happened in self-defence.
I spotted the house, which didn't seem very open but had a tourist plaque on it, which was all I needed to know, so I knocked on the door and asked the very nice lady if the house was available to view and could we visit. She said yes we could look round, it was actually her mother's house and she wouldn't mind either, but that the house we actually wanted was over the road! (Had I been on my own I would have taken her up on her offer, you don't often get to see inside people's houses.) With Sandra in tow and her sensibilities it was unfortunately a no go. We beat a hasty retreat and found the entrance not actually in the square at all and had a docent guided tour. Relatives now live here so only the ground floor is open, but it is a marvellous example of a large family home in Savannah. Many of these houses had fallen into disrepair, Jim Williams was responsible for buying and renovating several of them and today still, houses are being fixed up all over town.
We eventually wound up at the lovely rooftop bar at the Bohemian hotel overlooking the Savannah River, which is twinned with the Mansion. A good reason to stop here was the benefit of the free shuttle back to our hotel. Both these hotels are modern, up to the minute fittings, and contemporary art abounds everywhere.
Dinner was at The Grey a converted Greyhound bus station run by John Morisano, very hands on and he stopped to say hi.
The chef is Mashama Bailey.
I found this place as she was the subject of a Netflix Prog. The food was terrific and well worth booking in advance for. After dinner ready for some music we ubered over to the Cellar Tavern underneath the Olde Pink House. Such a good night was had that the next day was a somewhat subdued affair Sandra bought drinks all round several times, all of Savannah was grateful.
Olde Pink house with cellar tavern and live music
Horse drawn carriages are a must do so we decided to have one just to ourselves this time in the morning, which meant little thinking and some recovery time. The Bonaventure cemetery in Savannah houses a number of famous folk. Jim Williams for one, Johnny Mercer of "Moon River" and "That Old Black Magic" for another. And we took a picnic for lunch from the Back in the Day Bakery. If you call into the office as it is a huge place, they will give you a map (for a donation of course) and there are picnic tables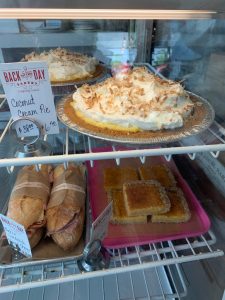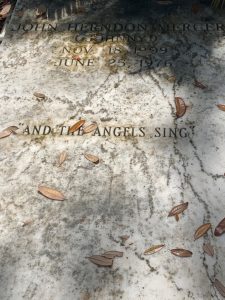 The Pinkie Masters bar featured heavily in my essential reading before I got here so we decided we had to stop by. A real dive bar with a good old jukebox, lovely locals, and the owners are so keen on cocktails that they could even conjure up a Pimms; pretty unusual for the USA. Parking is pretty easy you just need to pay, but then you need to pay for everything her except for the air.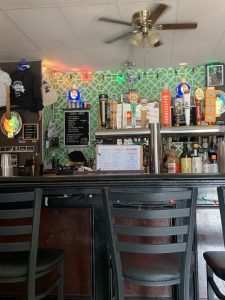 Dinner at The Atlantic a short trip out of town where a barbecue was cooking oysters rounded off Savannah. We left Saturday morning and I wandered over to farmers market in Forsyth Park over the road from the hotel worth a look if you're there. All manner of produce, herbs, meat, cookies, pickles, bread.